We are a Professional Video Production Company in Northeast Ohio and we are eager to tell your story!
Frame One Media believes that video is the leading tool to broadly tell a story. And we use our professional video production suite to deliver just that. From corporate video production, educational and training videos, or videos for your social media needs, we can do it all. We help you build brand awareness, catch the attention of potential customers, and convey a unified corporate culture. Through video we help give companies the perfect outlet for sharing their story. In addition to video production, we also offer podcasting, video animation, e-learning design and more. No matter if it's on location or in our video production studios, we are here to create everything you need to show the world the best of what you offer.
Frame One Media Client Examples










The Frame One Media Story
It was summer, I was ten years old. My friend and I decided to create one of our many low-budget films; this one an unofficial sequel to Jaws. During one of the epic special effects sequences, my parents' VHS camcorder fell into our above-ground pool and was immediately rendered useless. This was to be the first of a long string of broken video cameras and hard lessons learned in the production business.
My name is Matt Pallotta and I've always been a storyteller.  
That's what I believe makes Frame One Media unique. A compelling story is not confined to a big screen feature film.  Every company or organization, large or small, has a story to tell. From concept to completion, we use our skills and experience behind the camera to help you tell your story to prospective customers, partners, employees and consumers. 
How do we do that?
We've been fortunate enough to assemble a group of talented minds with unique abilities who can help take your vision to the next level. Whatever we need to film…wherever we need to travel, whatever resources we need to employ, we can tell your story effectively, efficiently, on time and within budget. And don't worry, we're open for pool-side shooting…we've got insurance on all of the equipment.
We strive for excellence in our work by focusing on every detail, every element in each shot.
Matt Pallotta
Owner / Producer – Frame One Media
[email protected]
(440) 794-1798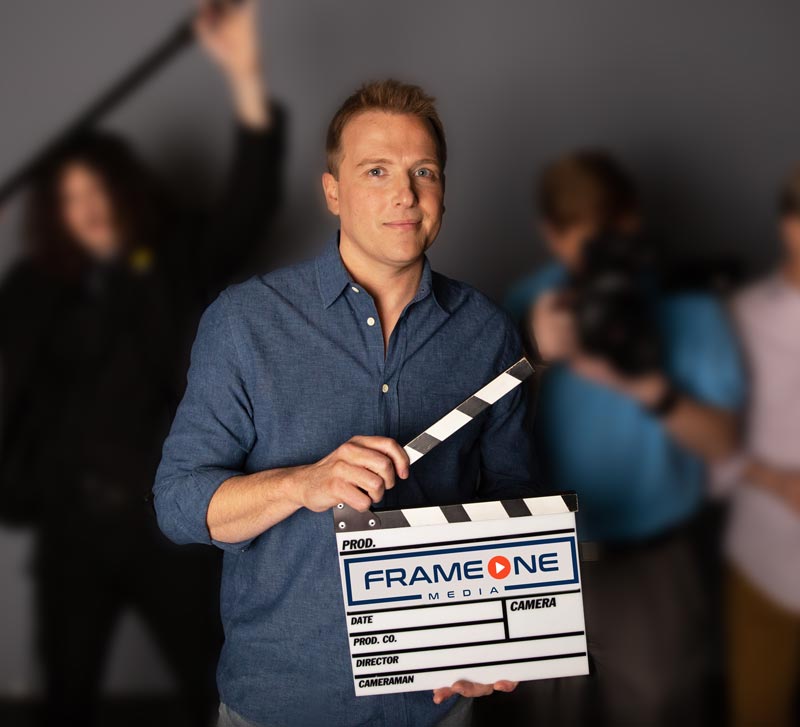 Video Client Testimonials
We strive for excellence in our work by focusing on every detail of your videos, every element in each shot.​
Read comments from previous clients who let us tell their story.
Working with Matt was a fantastic experience. He's professional, fun and most importantly great at what he does. His eye for creative detail is impeccable and his editing abilities are second to none. I wouldn't hesitate for a moment to engage Matt on future projects.
Alison Gacek
Domino's Corporate
When we introduce a video partner or any vendor to the company, we need a high level of trust and confidence in them because they ultimately represent us. That trust and confidence was there from the get-go, from the very first conversation with Matt and his team….it was clear from the beginning that we were working with a professional, strategic partner who knew exactly what our goals were and how to achieve them efficiently.
MK Donnelly
Sr. Manager, Performance Marketing | Versapay
...there was no person more skilled, professional and intelligent than Matt. I could always count on him to get the shot, get the interview and understand the story we were trying to tell. Matt has a strong sense of story, a stress-free attitude and a rare expertise in making moving images. At the end of the day, there is no way we'd have completed our contract with Pepsi had it not been for him.
Daniel Brothers
NBC - UNIVERSAL
I've partnered with Frame One Media for over ten years and have always been impressed and appreciative of their work. They are true strategic partners who collaborate and challenge in order to elevate the quality and experience of each story they are trying to tell. Thank you Frame One Media!
Katie Kent
Senior Project Manager / Digital Producer | Radancy
Working with Matt and his team at Frame One Media has been a seamless experience. We at Bevi ultimately decided to film our corporate case study with Matt because of his standup professionalism and skill in the craft (as evidenced by his work samples on his website). He has been patient despite multiple project delays and once the project was set to go, he immediately took charge and let us know exactly what he needed from us to succeed. During the shoot itself, he and his crew were clearly prepared and skilled but still allowed us to give feedback on the spot. Our video is everything we wanted it to be, thanks to their state-of-the-art equipment, well thought out shots, and fantastic storytelling. I would recommend Frame One Media to any company looking for a corporate case study or anyone looking for a visual storyteller.
Carmen Ren
Fmr. Territory Sales Manager | Bevi
One the most important products that we offer as an ad agency is the creative deliverable…and that's why we've been working with Matt and Frame One for over a decade. They always deliver incredible products and have consistently maintained an outstanding working relationship. Their creativity and collaborative spirit are unmatched.
Curtis Rogers
President & CEO | CKR Interactive
Working with Frame One was all fun and the video is GREAT! They created some unique graphics, captured high quality audio and video and made it a really good experience for everyone. I'm looking forward to the next opportunity to use them again.
Rosanne Kubisty
V.P. & GM, Hudson and Poland Facility | MGAE / Little Tikes
Matt Pallotta and his team added value immediately. They were very easy to work with and were professional, creative, fun, and they never lost focus on what the final outcome should be. I would highly recommend them without hesitation.
Rick Shultz
The NRP Group
Matt produced product demonstration videos for our entire line of products. We were very pleased with his professionalism, consistency, and creativity. He did a great job of managing the budget parameters that we set. Klawhorn Industries would recommend Matt and his team to anyone interested in producing a high quality video project.
Frank G. Malec
Klawhorn Industries, Inc.
We've worked with Matt Pallotta and the creative team at Frame One Media for years. They consistently make us say "WOW!" They're far more than a media production house. They know how to make professional works of art. Best of all, they know how to tell a compelling story. Since 1985, I've written and overseen the production of more than 2,000 videos. In all that time, I have never known anyone as creative and talented as Matt Pallotta. Dollar for dollar he is the best you will find anywhere."
Mark Gardner
CEO, Avatar Management Services
Ready to Tell Your Story?
Facebook Posts
This message is only visible to admins.
Problem displaying Facebook posts. Backup cache in use.
Click to show error
Error: Error validating access token: The session has been invalidated because the user changed their password or Facebook has changed the session for security reasons. Type: OAuthException