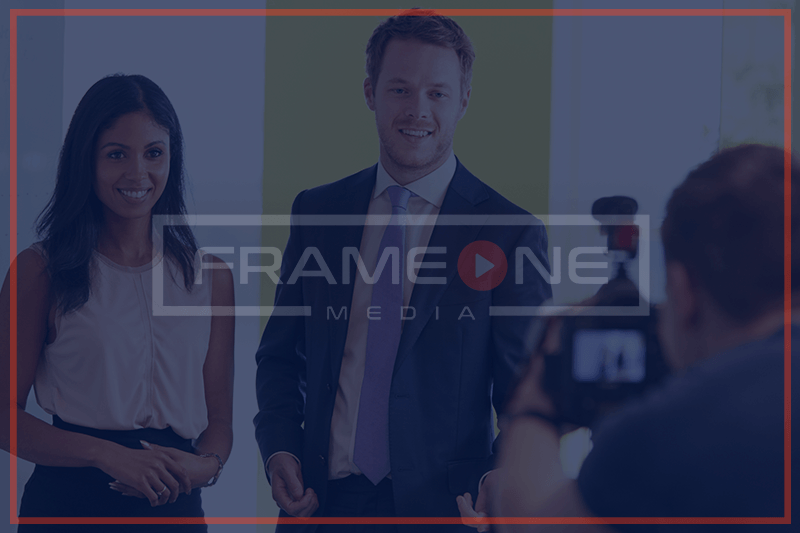 Every company has a story to tell. As one of the most effective ways of building brand awareness, capturing consumer attention, and conveying a unified corporate culture, videos give companies the perfect outlet for sharing their story.
Frame One Media offers a full line of corporate video production services that will help bring your company's story to life. We strive for excellence by focusing on every detail, down to each frame of video, starting with frame one.
How Corporate Videos are Changing the Face of Business
From social media videos and commercials to company communications and brand identity, corporate videos have become a central component in nearly every organization's communications and marketing strategy. A recent survey by HubSpot demonstrates that consumers are showing a strong preference toward video content. Not only are consumers more likely to watch video content, but they are also more likely to retain the information and trust a brand based on its video marketing.
This pivot toward business video marketing is also reflected in search engine rankings. Websites featuring even one video are 53 times more likely to appear on the first page of search engine results. Video marketing also nets a much higher ROI than other marketing methods. Including a video on your landing page can boost its conversion rate by as much as 80%.
People are interested in the stories a company has to tell. Frame One Media is here to help you tell yours.
What Types of Corporate Videos Do We Create?
The sky's the limit when it comes to what we can do. Working together with you and your team, we design and create engaging, high-quality videos that will help you reach your company's goals.
Here are some of the most common types of corporate videos we produce.
Website Videos & Brand Anthems
Marketing video productions run the gamut from executive-level interviews designed to convey a company's culture to engaging media that sets the tone for your brand. Frame One Media is passionate about creating videos that capture your company's unique personality and instill trust in your brand.
Commercials
Whether you're interested in anything from national broadcast to web-based commercial video production, our team of talented minds will help take your vision to the next level.
Social Media Video Content
Recent trends indicate that social media video content is an integral component of any successful digital marketing campaign. From Facebook to YouTube, social media videos are a different breed of video. The brilliant team at Frame One Media is especially equipped to deliver engaging, fast-paced content that will build brand awareness and drive traffic to your website.
Product Demos
In this age of eCommerce, product demo videos are the most effective way of getting your product in front of the consumer. In fact, 85% of customers are more likely to purchase a product after watching a demo video. At Frame One Media, we create gorgeous, compelling demos that showcase the quality of your company's products.
Testimonials
Rated as the most effective form of content marketing, video testimonials help build trust in your brand by offering an authentic customer experience. Our testimonial videos will help build consumer trust in your brand while showcasing your company's best attributes.
Corporate Communications
Especially in this day and age, company-wide communications are often done via video. Corporate communications range from internal communication videos, as from executives and the HR team, all the way to corporate culture videos designed to promote company values. Regardless of your corporate communication needs, Frame One Media is here to help you get your message across.
Corporate Recruitment Videos
Recruitment videos are an excellent tool for attracting the best candidates to your company. In fact, according to CareerBuilder, job postings that include recruitment videos have a 34% higher application rate than those that don't. The talented videographers at Frame One Media help you put your best foot forward to tell your story and build your team.